RV Service & Repair in Zephyrhills Florida


STRINGER ENTERPRISES OF FLORIDA LLC

Repair services include RV air conditioning units, refrigerators, water heaters, all electrical (both AC & DC systems), plumbing, awning fabric, holding tank valves, rubber roof, Flooring repair/replacement.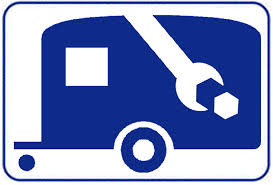 Authorized Norcold Service Technician

Dometic Trained Service Technician
LCI Technical Institue

Search Results RV Service in Zephyrhills, Florida

Tags=>Repairs for RV, Travel Trailer, Fifth Wheel, Camper, Toy Hauler,Mobile and Concession trailers, All Trailers,Search Results for a mobile Rv service in Plant City FL, Lake land FL,Tampa FL,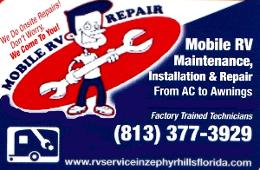 About Us
We are dedicated to completing your project (large or small) with quality results, on time.
To give you the best possible service at the best possible value.

Services
If you are looking to repair an RV, add-on accessories, or just need routine maintenance, We team up with local companies and factory engineers to fill your needs, solve your problem(s), and get the job done.
Serving your specialized needs is a big part of what we do so you can rest easy knowing that we can give you what you need even when others can't.
We can service your RV, trailer, or camper in our shop or at parks, camp-sites, storage facilities, or at your home when it is convenient for you. We schedule 6-days a week from 8 AM to whatever time works for you.

Qualifications
We have years of experience planning, managing, and executing RV Repairs of all kinds. Our team is professional and reliable, and we will work within your constraints. We always stay on the job until it's done to your satisfaction.

Stringer Enterprises Of Florida LLC is a Licensed, and Insured locally-owned Zephyrhills,FL business.
We Reserve The Right To Refuse Service To Anyone For Any Reason
Office Located at 40415 Chancey Rd, Unit 101, Zephyrhills, FL 33542
Call or Text 352-834-5975